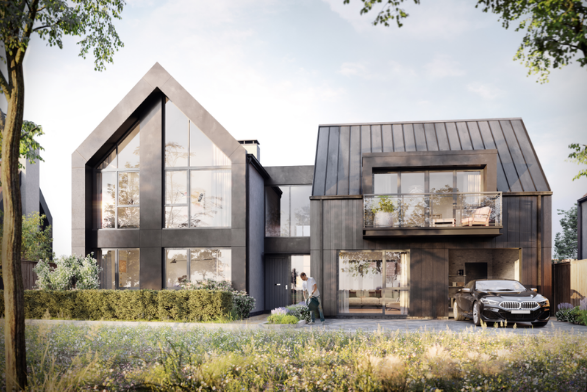 In close collaboration with our in-house team, Livingetc will design and dress the marketing suite and three show homes, to complement the 54 architecturally-bold and beautiful two – five-bedroom homes, the first of which are due to complete in summer 2021.

Rosie Nesbitt, Group Director Sales & Marketing, FABRICA says, "Livingetc's belief in blending beauty, utility and quality make them the perfect partner for Amber Parkside. Together, we want to inspire people through bold, elegant interiors and exteriors, that reflect our unique vision for modern living, and most importantly the cosmopolitan mindset of our potential buyers."

The show homes will consist of three striking interior styles that encapsulate the Livingetc aesthetic, the architecture of the houses being the perfect backdrop to these takes on contemporary style. Aimed at families looking for an authentic connection to nature, is the show home concept, Into the Woods, using natural materials, texture and modern rustic touches. This easy-to-live-with look taps into the trend for a healthier, more sustainable lifestyle.

For homeowners leaving the city to start a family, the show home Refined Industrial takes a softer approach to the edgy urban look; with a more refined finish that utilises black lines and architectural shapes, offering an easy transition from one lifestyle to the other.

The Modern Decorative concept is brought to life with on-trend hits of colour and pattern in key pieces of furniture and accessories that add interest and personality without being overpowering. This look is ideal for design-led couples, families, downsizers or empty nesters who want affordability without compromising on style.

Through Livingetc's network of trusted design brands and crafts people, the show homes will blend high street with high end feature pieces, ensuring the looks are aspirational yet attainable and can be easily recreated. Just some of the brands, which help define the Livingetc aesthetic, include, Andrew Martin, Christopher Farr, Colefax and Fowler, Conran Shop, Heal's, Hem, Julian Chichester, Larusi, Little Greene, Love Your Home, Sebastian Cox, Soho Home, Tom Faulker and Tom Raffield.

Pip McCormac, Editor, Livingetc, adds, "This is the first time Livingetc has put its name to a development. We knew as soon as we met with FABRICA that we shared the same vision for quality design and could help bring the bold architectural aesthetic to life with equally bold interior design concepts. We all agreed that those who would make Amber Parkside their home, would likely have a natural eye for design, so our show homes would really have to stand out and capture the different demands of modern family life in an innovative way."



Amber Parkside will perfectly blend innovative interiors and bold Scandi-meets-New England style architectural design, within a picturesque countryside location. Expansive green areas, countryside vistas and glorious parkland trails will characterise this unique new Surrey neighbourhood. Cranleigh, the largest village in England, is close by and merges pastoral charm with a lively, established community. The cobbled high street of Guildford is only 20 minutes away, where trains run regularly to central London for commuters.