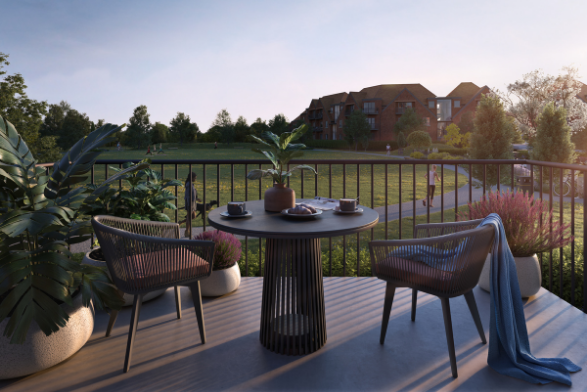 Location, location, location
A 38-minute train journey from London Waterloo*, Ashford is the ideal Surrey town for commuters and culture vultures. Whether it's the bright lights of Soho or an office job that draws you to the capital, Brooklands Park offers easy access to central London without the sky-high costs of living there. Car owners can get onto the M24 and M25 within minutes and Heathrow's only a 12-minute drive away. Excellent transport links aside, Brooklands Park is also a star location due to its proximity to picturesque countryside. A short drive away from Brooklands Park is the much-loved Surrey Hills, designated an 'Area of Outstanding Natural Beauty', while closer still is Bedfont Lakes Country Park, a 72.5-hectare nature reserve made up of woodlands, grasslands and scenic jogging trails. Also nearby is Runnymede Pleasure Ground, a riverside park with playgrounds and a popular cafe. There's no shortage of charming Surrey towns to visit either, from upmarket Weybridge to leafy Sunbury-on-Thames.


An enviable lifestyle
With direct trains to London, the world's best restaurants are within easy reach. But you needn't venture out of Surrey to dine out well. In Ashford itself, friendly Italian trattoria Amici is a favourite among locals, but also popular with foodies is Staines-upon-Thames, home to Californian fare at trendy Limeyard, or authentic Japanese flavours at Sushi Nara. Staying healthy is easy too, thanks to the clean air and abundant green space that surrounds Brooklands Park. Residents can start the day with jogs around Brooklands Park or work up a sweat at the local state-of-the-art gym, HITZONE. If team sports are more appealing, there's always Ashford Tennis Club – also a good place to socialise. And parents (or parents-to-be) will be pleased to know that Ashford is home to several 'Outstanding' Ofsted-rated schools, among them Challock Primary School and Highworth Grammar School. There's even a handy play area in the park for the little ones.


Perfect for first time buyers
Good news for those looking to get on the property ladder: Brooklands Park is available on the Shared Ownership scheme, meaning it's surprisingly affordable. Prices start at £98,175 for a 35% share of a 1 bedroom apartment, in this sought-after development in the heart of Surrey.

With the Shared Ownership scheme, you part buy, part rent, which typically means your monthly repayments work out cheaper than if you were buying on the open market or renting privately. You can increase your share of the property, known as 'staircasing', as much as you like, even to the point where you own the property outright. Another advantage of part owning, part renting a Brooklands Park home is that you get a 12-year construction warranty and a 2-year developers' warranty, covering defects.

It's easy to organise as well: Shared Ownership mortgages are accessible (we can talk you through it) and those already living or working in Spelthorne get priority.



For more information on the Shared Ownership scheme, contact our sales team on 020 3925 6034 or complete an enquiry form.

*Dependent on time of travel. Source: GoogleMaps