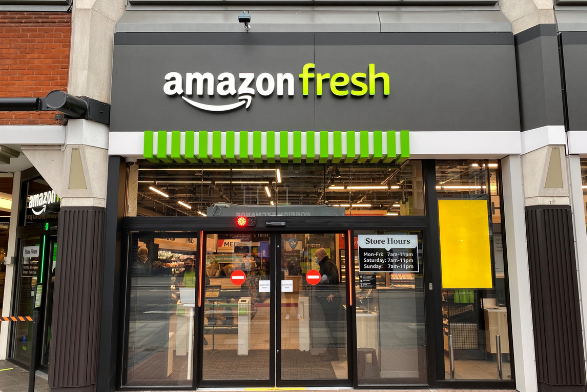 The quest for supermarkets to make food shopping more convenient has long-continued over the last couple of decades. First came the introduction of self-checkouts in 2003, followed by contactless payments four years later. Sainsbury's introduced their till-free concept in 2019, but to scan every item as you shop proved more effort than it was worth. Amazon have now truly upped the grocery game, eliminating the payment process altogether with its 'Just Walk Out' technology. As the name suggests, it offers you the chance to 'grab and go' – without being stopped by security.

With the number of online shoppers continuing to climb every year, it's become essential for brands to keep up with the nation's changing habits – and Amazon Fresh undoubtably offers us the smartest solution yet. "The focus was just creating a really easy shopping experience for customers," said Matt Birch, the store's director. But this growing need for convenience isn't the only reason the store comes at a good time. Amidst a pandemic, touchless payments are more welcome than ever, with people now looking for safety from their high street experience. Could this be the future of retail?

We looked at how it works. On the way in, shoppers scan a smartphone app, shop as they would normally, and walk out – no queues, checkouts or interactions with staff needed. Instead, their Amazon account is automatically billed as they leave. Too good to be true? Stellar reviews are proving it does what it sets out to do, one Ealing shopper claiming "I felt like I was stealing things – stealing my bottle of wine."

To make this innovation possible, the store uses hundreds of cameras, depth-sensors, and technology backed by artificial intelligence. This helps detect which items are removed from shelves and identifies goods put in shoppers' bags. But – importantly – facial recognition is not used, which originally raised concerns over.

So why Ealing? It took the online retailer three years of research to find locations that Amazon Fresh stores would start life in. Darren Richards, Head of Real Estate at British Land, said "We are thrilled to welcome the UK's first Amazon Fresh store to Ealing Broadway. Ealing already benefits from fantastic transport infrastructure and is set to undergo significant transformation with the opening of Crossrail and £1 billion of wider investment that will continue to enhance its appeal."

The neighbourhood's exciting mix of large retailers and independents stores make up 400,000 square feet of retail space and is already attracting over 16 million visitors per year – making it a no-brainer for many retailers looking to set up shop.

For locals, as well as benefitting from contactless payment, it provides them with yet another supermarket option. Stocking everything from meat and fish to fruit, veg and baked goods, it's everything you'd expect from a grocery store. You'll also find everyday essentials, household items and flowers – Amazon's own-brand products sitting alongside better-known names. There's even freshly prepared hot and cold meals and a self-serve coffee machine so Ealingers are pretty much sorted from their morning croissant to their midnight snacks. The store also doubles up as a place to collect and return goods bought online, another bonus for shoppers.

A novel idea, no doubt. And one where the novelty is unlikely to wear off. Just 15-minute walk away, JIGSAW residents can now welcome this new addition to the supermarkets, independent cafes and restaurants already on their doorstep. For those thinking of moving to the area? If Ealing was the retail giant's first port of call, you know it's the place to be.