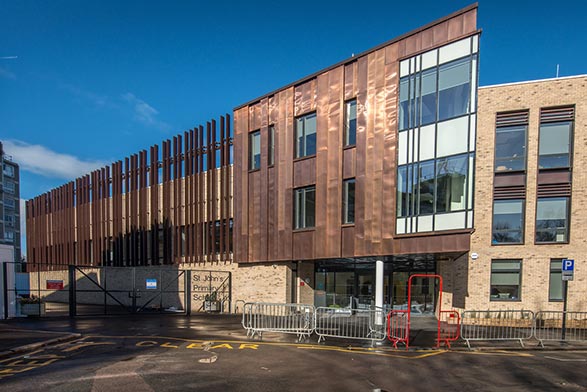 The new building, designed by Conran and Partners, opened in January and provides places for 630 pupils, 210 more than the previous building, plus an expanded 100 place nursery and provision for 25 pupils from across the borough with speech and language difficulties. There is also a rooftop play area as part of the three-storey development. The previous school building, on an adjacent site, remained fully operational throughout the construction period.

A new St John's Primary as part of Jigsaw's footprint was well received by Ealing Council as the popular and well-regarded local school has seen its headcount continue to grow in recent years. The expansion of the school forms an additional element to the redevelopment of the Ealing area and is a welcomed addition to the community.

Since the new site opened, the larger three-form entry school has immediately delivered on expectations with the refreshed and modern environment providing local children of Ealing with access to quality education and provisions for extra-curricular activities to unlock their potential.

Councillor Binda Rai, cabinet member for children and young people, said: "The rebuild and expansion of St John's Primary is the latest in a long line of projects designed to ensure that we have sufficient places to meet the needs of our growing population."

Works will soon commence to demolish the old school and create a further 22 three and four bedroom homes for Jigsaw to help cross-subsidise some of the costs of the school.