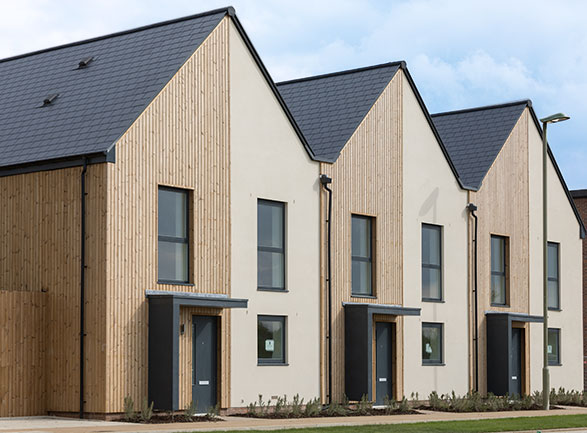 Having the UK title confirmed by international sustainability charity, Bioregional, Elmsbrook residents can save around £400 per year on their energy bills against their average Bicester neighbour. According Bioregional's monitoring results, Elmsbrook residents used 57% less heating and hot water against their Bicester neighbours and 28% less electricity than the Bicester average.
With 22 residents surveyed from phases 1 and 2, it's the eco features that accounted for 47% of Elmsbrook homeowner's favourite aspect of their new home. Of residents, 57% said the eco features were what they liked most about the development. Promoting more than just desirable savings, residents benefit from triple glazed windows, solar PV panels, rainwater harvesting and energy efficient integrated appliances.

But the eco features at Elmsbrook aren't limited to just homes, as the on-site primary school 'Gaglebrook' and eco-business centre also fall in line with standards to ensure the whole site achieves true zero carbon. This also includes the new residents' bus 'E1' which will comply with the latest emission standards and will run every 30 minutes six days a week from Elmsbrook to Manorsfield Road, serving Bicester centre and train stations along the way. Over 2000 passengers already take the bus every month and 98% of residents are already pleased with the service and would recommend it to a friend.

However, Elmsbrook offers more than just annual savings to its residents. With over 40% open green space in the development, 81% of residents said they feel healthy or very healthy compared to the national average of 57.8% and half of the residents make daily or weekly use of the green space.

Growing in community as well as size, residents of Elmsbrook have said hello to more than 15 neighbours and are engaged in governance activities. Against a quarter of people in the UK as a whole don't say hello to their neighbours, Elmsbrook merges friendly village life with modern day convenience.

Also offering excellent and sustainable transport connections, residents benefit from the electric car club (of which 48 residents have signed up already), the hail and ride bus service and free Brompton bicycle rental scheme. Being located in NW Bicester, Elmsbrook is also closely accessible from the M40 too.

Already having 2 successful phases and now being in the third, Elmsbrook offers all residents the best of countryside, healthy living whilst still being closely connected to towns and have excellent transport connections to London and larger cities.



*True zero-carbon covers all household energy use, regulated and unregulated. Saving arises when maintenance, gas safety checks and eventual boiler replacement are factored in, including in standing chargers.