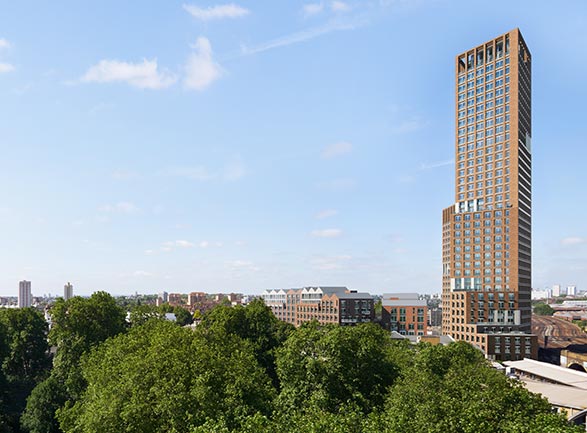 The UK's highest residential brick tower comprising 36 storey's has been given the go ahead to be built in the area. The scheme will deliver 415 new homes as well as 3,500 sq m of retail and commercial space.

After the success of Queen's Wharf in Hammersmith, this is to be the second joint venture A2Dominion will have with Mount Anvil. 40% of the homes at Queen's wharf were sold in just the first four weeks of its launch, with 6 out of 10 sold to UK buyers.

The Chief Executive at Mount Anvil, Killian Hurley, said: "Keybridge House will be an iconic development, creating 415 outstanding new homes and exceptional quality commercial space, which will further enhance London's world-class standing. We are delighted to have secured this fantastic site and are excited to start work creating the UK's tallest residential brick building."

Sally Leonard, Head of Asset Management and Strategy, BT Group, said: "We are delighted to be selling this important site to Mount Anvil and A2Dominion who we are confident will deliver the scheme we have worked so hard to develop, which will not only provide much needed new homes, but also will make a significant contribution to the local area. We are particularly pleased with both Allies and Morrison's design and the gifting of a site to Lambeth Council for a new primary school."

Darrell Mercer, A2Dominion Group Chief Executive, said: "We are thrilled to join Mount Anvil in this second collaboration, demonstrating our confidence to invest in the London housing market. This landmark development supports our strategy to continue to diversify the range of homes and tenures we provide, including properties for sale, private rent and shared ownership through our new FABRICA by A2Dominion brand."

Work began back in Spring 2015 with completion expected at the end of 2018.