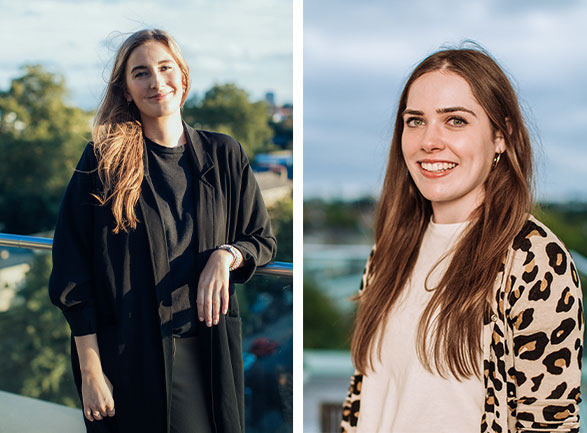 Q: What attracted you to Carlton?

Lauren: What attracted us to Carlton House was area, I really wanted to explore looking at a new build because I've never lived in a new build before and just thought it was a really nice opportunity. We met the team and they showed us around and we were like, yes, this is really good. We really liked the show flat, the finishes of that looked amazing, and so we were like – yep! Looks great.

Sophie: Carlton house was actually the first property we saw in our search and we came and saw the show home which was a 2 bed. I think for us it was nice to see a flat well laid out and you could really see yourself living there. We did see other properties but really nothing compared to what we'd seen at Carlton House, we knew it was for us. We knew we wanted a new build, you could make it your own as a blank canvas. And we really love the area, we love Putney, we know it quite well as we grew up in the area. We knew we wanted a balcony, we knew we wanted a 2 bedroom so it was perfect for us.



Q: Where did you live before moving to Carlton House?

Lauren: I lived in Fulham before moving here, my mum had a place. It's the first property that I've lived in that I've brought. Putney is one of my favourite places in London, I like going for walks here. It feels like you're so close to central London, my commute is just so easy and nice but you've got parks, you've got the river, you have shops – Putney High Street is amazing and it's expanding all the time, it's literally my favourite place in London. I'm so glad to be living here.

Sophie: I used to live in Strawberry Hill and work in Shoreditch, so my commute was about an hour and a half, but since moving to East Putney I can now get the district line straight from East Putney to Aldgate East, it's about a 50 minute commute so it's pretty much halved so I'm really happy about that. My partner's commute has remained pretty much the same.

Q: What was your motivation for buying?

Lauren: My mum was selling where we were living so that was my motivation to begin with, but also, it was an older property and that was partly what attracted me so much to the new build, I have a couple of friends who live in new builds and I always think everything always just fits, it feels clean and nice and modern. So when we made the decision, we wanted to live together and so when the time came we thought let's just do this.

Sophie: I lived with my parents in Twickenham and my partner Fred lived with his parents in Chiswick and we both spent about six months trying to find the ideal flat for us. So yeah, we both lived with our parents and were looking for that first home together.



Q: What do you think of the finish of Carlton House?
Lauren: The finish of Carlton House is amazing, it's what I'd have picked if I'd had a choice! It's real interior gold. The residents lounge I've shown everyone who's visited, I feel very proud to show people around.

My apartment, I love the fact that there's so much light. We have floor to ceiling windows in every room and it just really lights up the place. We have everything we need but it doesn't feel small, it actually feels really spacious. We have a super king in our bedroom and there's still room for bedside tables and everything – it's shockingly big but still feels cosy. It's just really nice.

Appliance wise, our kitchens are completely fitted out, it's amazing. I've never had all new appliances before and they're all Siemens, an induction cooker which is so great. I'm a bit of a neat freak so I like having everything in place. I love cooking as well and it's good to clean everything else out. There's so much storage space in the kitchen as well, I was worried I wouldn't be able to fit all of our crockery, etc but we've managed to fit everything in, it's so great.

Sophie: We love the finishes at Carlton House. We really love the marble effect backdrop in the kitchen, a lot of our family members have commented on it that's probably our favourite aspect, and the bathrooms as well, they're just really stylish, just feel clean and fresh which was exactly what we were looking for.

I think Carlton House really stood out for us as our ideal first home because it had everything we needed all the requirements were there. In the flat itself, it had clean modern fresh bathrooms, a kitchen that had the right amount of storage for us, we love to cook. It was just perfect for us, the minute we walked in we knew it was right for us.

I think from the outside it is pretty stunning in a modern and minimalistic way. I think you can see people walking down the street and looking up at it, I think it definitely stands out on the high street. And that is replicated on the inside. All the flats I've seen so far seem so modern and fresh, that's really what attracted us. We're really excited about the architecture and design.



Q: How has your lifestyle changed?

Lauren: In terms of my lifestyle, I've never had a concierge before and that's quite life-changing. For my job I get sent a lot of products, from PRs and brands, and before there was always that worry of am I going to be in, am I going to get it, will I have to go to the post office, but it's so easy you just get an email from the concierge, who is just so lovely as well, so it's great.

The thing I'm most happy about with the new house is probably the location. Just everything to be honest. Location, quality of the actual apartment. Already within a couple of days of moving in despite the fact that we didn't have all the furniture I actually felt more at home then I had even living somewhere I had lived for five years before.

I feel safe with the concierge, night-time security guard who I have met and is also lovely, it's just feels cosy, safe and friendly – it's great.

What I love about the location is that we are literally a thirty second walk from East Putney station, so it makes commuting so easy. It's great because you can't hear the train as the windows are triple glazed, even though the train is so close to you. Putney station is about an eight minute walk away and that's overground to pretty much anywhere as well. I've been using the buses to get places as well, so many buses and that's super accessible. It's pretty easy to walk anywhere as well.

Putney High Street is like an eight minute walk which has everything you need. The restaurants opposite are great, we've already utilised most of them. I use Puregym just down the road. Literally every single amenity you could dream of is on your doorstep. There are also some nice pubs along the river.

The River Thames is super close. We have a really great view of the London eye from our apartment even and the whole London skyline is accessible from the roof terrace, there are stunning views up there. It makes you feel like you're in London but not in the super-super busy hub of London.

I have loads of friends nearby in Putney and Wandsworth and it's so easy to see them now, I feel like it's a lot more of a community, we're still close to the city but this just feels like home, and it feels safe. I can just call my friends up and go for a casual pint at the drop of a hat, it's really nice.

The facilities here are amazing, I feel like as a journalist I sometimes have meetings and if anyone is in the vicinity nearby I can invite them up to the residents lounge because I feel like it's got really fast internet, it's decorated amazingly, it's like a coffee shop without the people so that would be perfect for me to meet with them and discuss stuff together.

Sophie: Life has definitely changed for us because we've gone from living with parents or with friends to living together in our first home. We've enjoyed the whole process of making the home ours; filling it with our furniture and putting in all the items we've collected from holidays and making it feel like home. So we've really enjoyed that process and the flat is starting to come together and we're really happy with what we've created from that blank canvas. We've just really enjoyed spending time together and getting to know Putney a bit better. Last weekend we went to the high street and bought some fruit and veg from the greengrocer and went home to cook, and it was just really nice to know that that was on your doorstep.

Obviously it's got the Thames, it's got the high street, it's got all the amenities on your doorstep and it just kind of felt like home straight away especially because Carlton House is so close to those amenities, literally the tube station is on your doorstep, and all our favourite pubs are on our doorstep so Putney was really a no brainer for us. And it was ideal for both of us in terms of our commute as we had the choice of both the train and the tube and there's buses as well so it's just, it's a no brainer.

I think the development is situated really well in between the underground and the overground and obviously the bus routes. And we're also really close to the Thames and the cycle paths as well, I actually walked home from work once along the Thames. (I was training, I climbed Kilamanjano a few weeks ago). I think in terms of transport we couldn't have picked a better location, we're really lucky with that.

We both have a couple of friends that live nearby, it's definitely helped us to maintain contact with our friends and see them more often than we would otherwise. My best friend actually lives down the road which is really sweet. It's just lovely to have our friends round to our flat now and start hosting dinner parties and things like that. All our friends really love our balcony. We get the sun that goes in between the buildings which is really nice.

We've used the roof terrace – when it was sunnier, a few weeks ago – to have some drinks with friends, while the sun was out. We also use the concierge, he's really helpful in terms of picking up our parcels because we both work full time jobs, it's really great that he can securely store those parcels for us and we can pick them up on the way in, and he recognises us so he'll just give it to us when we walk in which is really nice.

I love the resident's lounge I love the way it's been styled. I haven't used it yet but I think I will be making use of it.

There's a really lovely café/shop – it's a great place to go and work from a work from home day. People go there with their laptops to work. There's a good nail bar where you can go and have a prosecco with friends.

My favourite thing about Carlton House is convenience in terms of not only the amenities within the building, so the concierge, the fantastic rooftop terrace, the residents lounge and obviously our flat itself, but also the convenience to transport, to all the amenities, friends, really we couldn't have picked a better location.

I'm really excited, because we've got a two bedroom flat, for a couple of my friends who live abroad to stay in my second bedroom. We've done it up with these friends in mind so I'm really excited for them to come and see our flat and stay with us, which is why we bought a two bed. I'm also excited about our first Christmas in the flat together. We're already making plans about having our family over. I'm not sure we can fit all our huge families in for the meal but it'll be really nice to have Christmas together, we already know where our first Christmas tree is going to go so we're very excited about that.

You're not amiss from anything here. There's even a club down the road.



Q: Would you recommend others to buy at Carlton House?

Lauren: I think if anyone is considering buying at Carlton House, there are a lot of good opportunities at first time buyers, it is a very easy place to live, it is very secure, the location is second to none and I just couldn't recommend it enough.

The application and buying process was actually really easy. We registered our interest and once we were told what we had to do it was very simple to follow. We didn't have any issues at all, we were helped along the way by the team and it was just very easy. We were buying a house and it was very easy.

Moving in to the finished plot was amazing. I mean obviously moving was very stressful but we had friends over the day after we moved in because we were just so proud and impressed of the high standards, we were like we can't believe we live here, we literally had people over the next day for some champagne and even with the boxes it was such an impressive space.

I would definitely recommend Carlton House, I've only lived here for about three weeks and I can't imagine living anywhere else. It's got everything I want and more and I'm just ecstatic that it's my home. I can't wait to have more people over to show off. It's just fantastic, so yeah, definitely recommend.

Sophie: We bought the flat off plan and we bought it a number of months before the flat was actually finished so we obviously hadn't seen the actual flat itself, we'd seen it on paper on floorplan and we'd seen the show home but the show home was a slightly different make to our flat itself. But when we walked in to our actual flat and it was all clean and new and white and ready to be lived in that was really exciting and from then we could imagine where our furniture would go and where we'd want to put things. That was probably the most exciting I think.

As first time buyers we were a little bit nervous about the process. There's no dummies guide to buying a house you just have to really work it out for yourself. We got lucky with the estate agents we met who took us around Carlton House and the marketing team here. We actually found it quite easy because we knew exactly what we wanted, the team were really supportive with us being first time buyers in that they were pointing out things that other people may have found more obvious, and the process went fairly smoothly, you know you're always going to have speed bumps in the road but actually we sort of enjoyed the process, we managed to get into our flat on time and on completion date, which gave us the last few weeks of Summer to get into our flat and get the furniture, and sort of enjoy the last few weeks of Summer in our flat. So overall I'd say the buying process at Carlton House was fairly simple and I would actually recommend it to other first time buyers because I think the whole process has been quite good for us.